Yes! I've finally had the time to blog about my Tioman trip =) Haha~ After so long but.. oh well. Now is the time =) However, I'm still kinda lazy to make a collage for my photos. Oops~ And I feel damn f*** up with Blogger. I can't upload my photos directly from the "add image" icon. WTH lor. The problem has been there for so long yet they don't wanna fix it. Argh~!
On 14/8/09, Jiamin and I set off to Tioman in a coach followed by the ferry. I went over to her house to stay the night before. I couldn't sleep well the night before so was sort of smsing and disturbing Jeff. Oops~!! Sorry =/
Anyway, something happened on our way to Tioman. The coach which we were initially on broke down! What the hell lah. Haven't encountered this before. All of us had to get down and wait for the next bus to come. Sianz~ Early in the morning, got to stand there and wait. So tired lor. Jiamin was whining and complaining to me. Haha~ I'm too tired to complain or whine. Waited for around 45mins before the next bus arrived. Whew~ Finally, we can be on our way.
I can't stand it. I am so disgusted with Blogger as I am having difficulty uploading my photos. What a waste of my time! Sorry but I really wanna rant. Took me at least 15mins to upload the above photo here okie. So I shan't put in that many photos =.=
The ferry terminal where we took the ferry to Tioman. Can't remember the ferry terminal name though.
After around 2 hours, we reached Tioman. Yay! Jiamin gets a little seasick though.
Taken from the balcony of our room xD
The surrounding of our room =)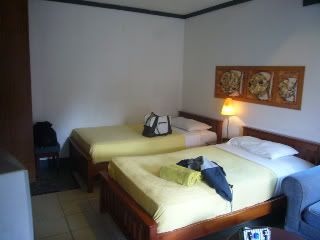 The interior of our room =)
Paya Beach Resort! Our home for 2 days!
PS: I shall continue blogging and uploading photos another day as I am really tired now. This blog entry has taken 1 hour plus of my time already =(